Change to the Christmas concert schedule: Gr. 6-12 will have live concerts on Dec. 14. Gr. 6-8 at 6:30 pm & gr. 9-12 at 7:45 pm. 2 tickets per family. Cleaning between concerts. Also shown over TornadoVision and Internet. More info to follow. Elem. concert will still be virtual.
🎄Evergreen products will be ready for pickup tomorrow starting at 3:30. We will be on the west side of the bus barn. Please stop by to grab the products you sold. Some items are unpaid, so please pay before you pick up. Thank you to everyone who ordered and supported the school!

Happy Thanksgiving to the community of Cavalier, our patrons, and the surrounding area! Please enjoy the Thanksgiving holiday and please try to do all you can to be safe and healthy, but yet make things enjoyable. As different as things have been since March, we have plenty to be thankful for. Our current COVID-19 update is: we have 2 active positive cases and 44 individuals affiliated with our school out as close contacts at this time. We do anticipate approximately half to be back in school on Monday. We encourage everyone to keep doing all they can to slow the spread. Please contact the school if you have questions. Thank you.

Cavalier School Christmas concerts will be shown virtually later in Dec. The elementary performances will be recorded Dec.9-11, the Gr. 6-12 performance will be recorded Dec. 14-15. The music teachers will be sending out further information about clothing attire, dates, etc.

If you haven't had the chance to complete the 2020 Parent Survey yet, we'd appreciate the input. It only takes about 5-10 min, but the information is invaluable to our school improvement. The survey link will be open thru Friday, November 27th. Thanks for your help.
https://eprovesurveys.advanc-ed.org/surveys/#/action/145856/61129


COVID update: We currently have 2 active positive cases of COVID-19 with people affiliated with our school. We have 32 individuals identified as close contacts. Both the positive cases and close contacts were deemed to have occurred outside of the school setting. As most have heard, Governor Burgum issued a mask mandate for the state of North Dakota yesterday. What this means for our district is that the expectation will be to wear an appropriate mask throughout the school day, unless outside where physical distancing can be maintained. In reality, this is only slightly longer than what our rule has been the past several weeks. The biggest change is that all NDHSAA winter sports (games & practices) will be paused until December 14th. This includes any community or club sports as well. It is the hope that these steps will continue to help mitigate the spread. We appreciate and thank all that our staff, students and families have done so far this school year to help keep school in session. It will continue to take hard work and cooperation to keep our school and community as healthy and safe as possible. Please contact the school if you have any questions.

There will be a reception for the football team tonight (Friday) with attendance limited to family and relatives of team members, cheerleaders, and coaches in the school gym at 8 pm. Congrats on a great season and a hard-fought game today. We are proud of you! Please use door #8.
Please return wreath order forms tomorrow by the end of the day. They can be dropped off in my room or the office. Thank you for helping out a great cause! Go Tornadoes!

Our football sendoff to Fargo will look a little different this year. The bus will leave the school about 11:20 am today and make 2 loops around the usual parade route thru town. Students will be outside for the sendoff. Please line the streets to wish the Tornadoes good luck!

State Football ticket sales update: Due to the street being under construction near the school, please use Door #8 near the East parking lot to enter the school from 4-6 pm today. Thank You.

Although we are not able to host our annual Veteran's Day program due to COVID, Cavalier School would like to thank all veterans past, present, and future for their service and sacrifice for the freedoms we all enjoy. Pictured is our Wall of Honor at Cavalier Public School.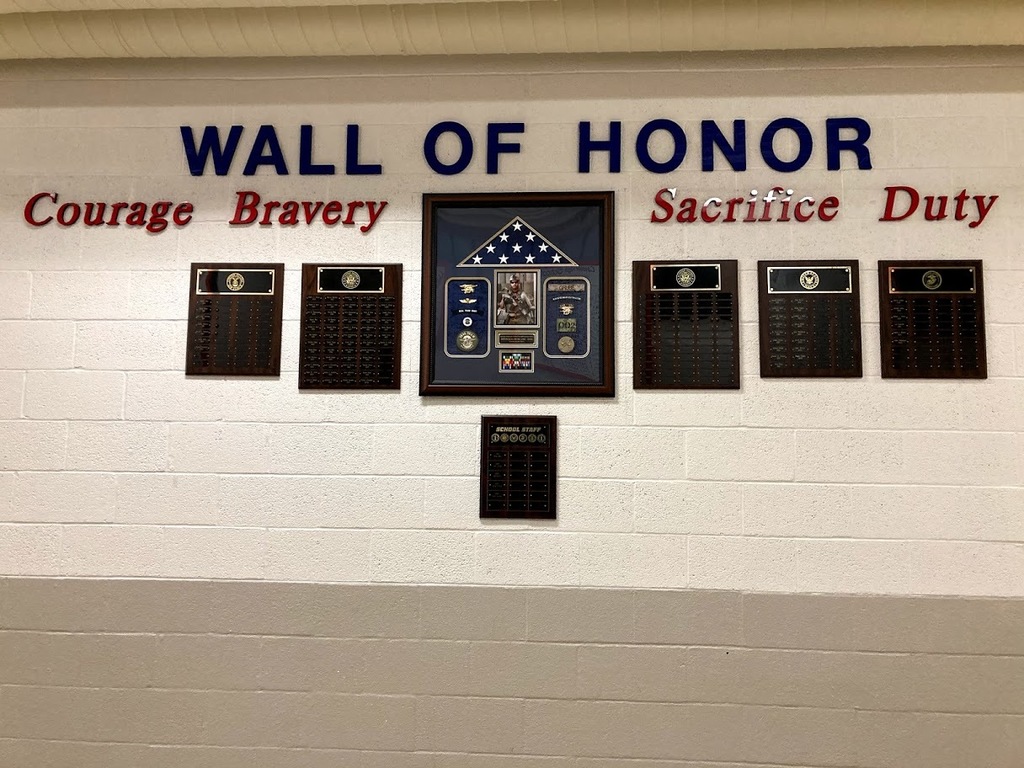 We have 2 days lef to sell wreaths. If every family sells a few, it will be very successful. These make nice (early) Christmas gifts for that 'hard to buy for' person on your list. Dec. 2-4 delivery. Thank you to those who have already ordered and supported the playground. 👍
The cheerleaders need help from the Cavalier school & community! Please send us your videos to wish our football players good luck on Friday! We only have a couple so far and we are looking for more.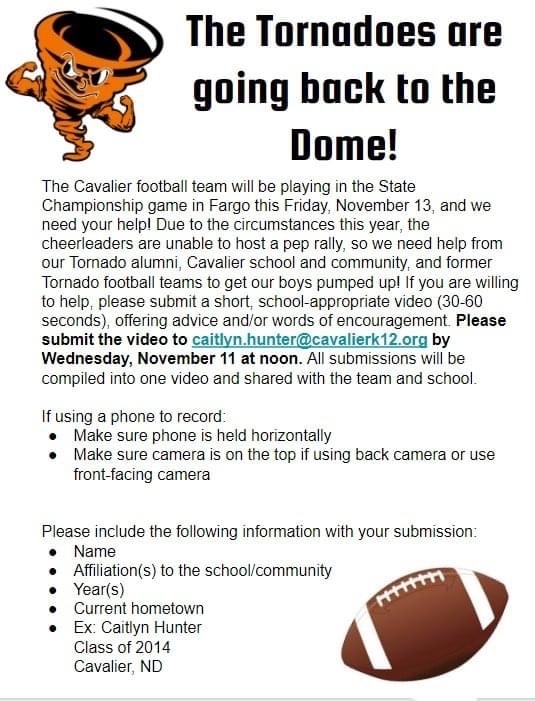 Good luck Lady Tornadoes as they travel to Mayville for a first round Region 2 volleyball matchup. This game can be watched on the nfhsnetwork.com. Game time is 7 pm.
PTO will be selling wreaths Tues-Fri this week. This is a great fundraiser for our playground. Elementary will come home with order forms. They will also be in the office. Online ordering is an option. Check out the School Facebook post for more info. Thanks in advance!

2020 State Football ticket information. 500 tickets per school. All tickets are reserved and presale ONLY. Tickets are in pods of four and $20 each for all ages. Masks are required for all attendees. Tickets for participant's families will be on sale on Monday, Nov. 9th 5:30 pm-Seniors 6:00 pm-Juniors 6:30 pm-Sophomores 7:00 pm-Freshman Tickets for student body can be purchased on Tuesday. Other tickets for other fans can be purchased at the school on Wednesday, Nov. 11 from 4-6 pm. Please form groups of four as much as possible.

With the county going to orange status, you ABSOLUTELY must have a prepaid ticket to get into today game!

Update - Today's VB Regional Play-In match vs DVE will be streamed on the Cavalier Booster Facebook page at
https://www.facebook.com/cavaliertornadoboosterclub
- Start time is 7:00 PM. Due to Pembina County changing to orange - NO TICKETS WILL BE SOLD AT THE GATE - you must have a prepaid ticket to enter.