At the School Board meeting tonight, the Board voted to not require masks the rest of the school year and encourage social distancing when possible in the building. We will continue to conduct contact tracing when necessary.
Dollar For Scholars is sponsoring Battle of the Bucks . They will be serving Root Beer Floats on Wednesday, May 12th. Free Will Donation. Money raised will be applied towards Scholarship Funds for your graduating CHS class. Minimum donation $1.00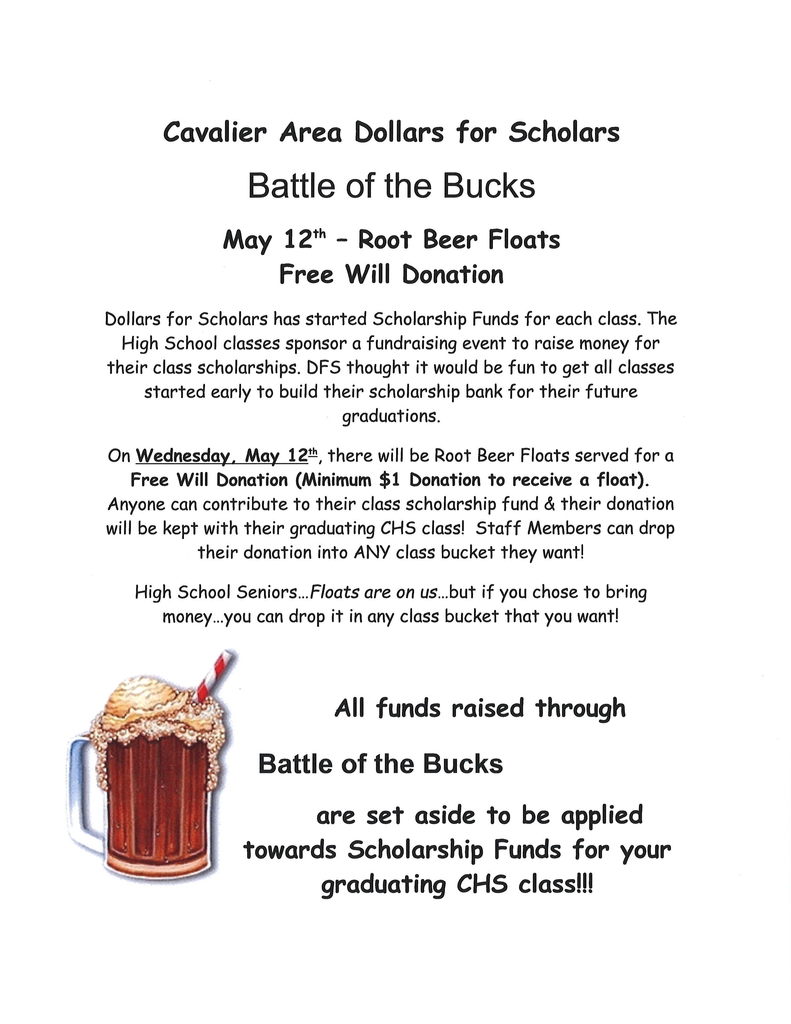 Join us for the Cavalier School Strategic Planning sessions on Wednesday, May 5th and Monday, May 10th from 5 to 7pm in the Band Room. We will discuss the future goals & strategies of the school regarding education, staffing, facilities, etc. These sessions will be led by Marcy Douglas, who also assisted the city of Cavalier with Strategic Planning. Please use Door 10. Masks are required.
Missoula Children's Theatre production of Johnny Appleseed
Former CHS students Lainee Gapp and Alisha Morrison both received scholarships from the (CEA) Cavalier Education Association. Alisha and Lainee are pursuing their degrees in education from Mayville State University. Congratulations to these future educators. The staff at CHS is proud to support the next generation of teachers by paying a dollar to wear jeans on Fridays.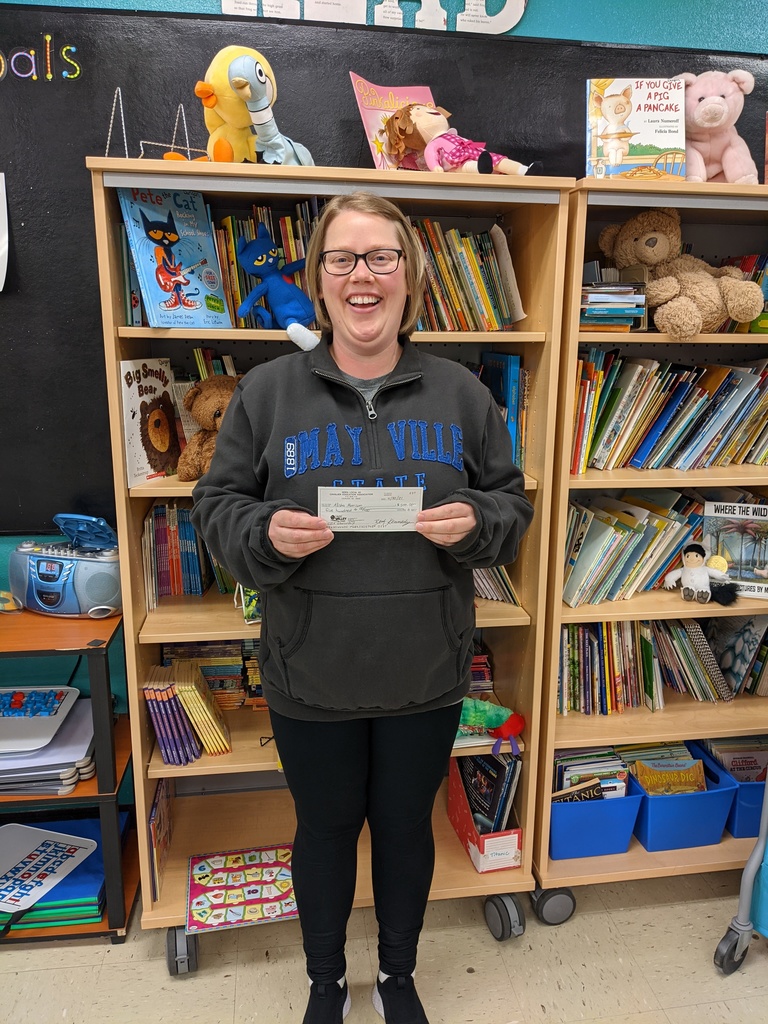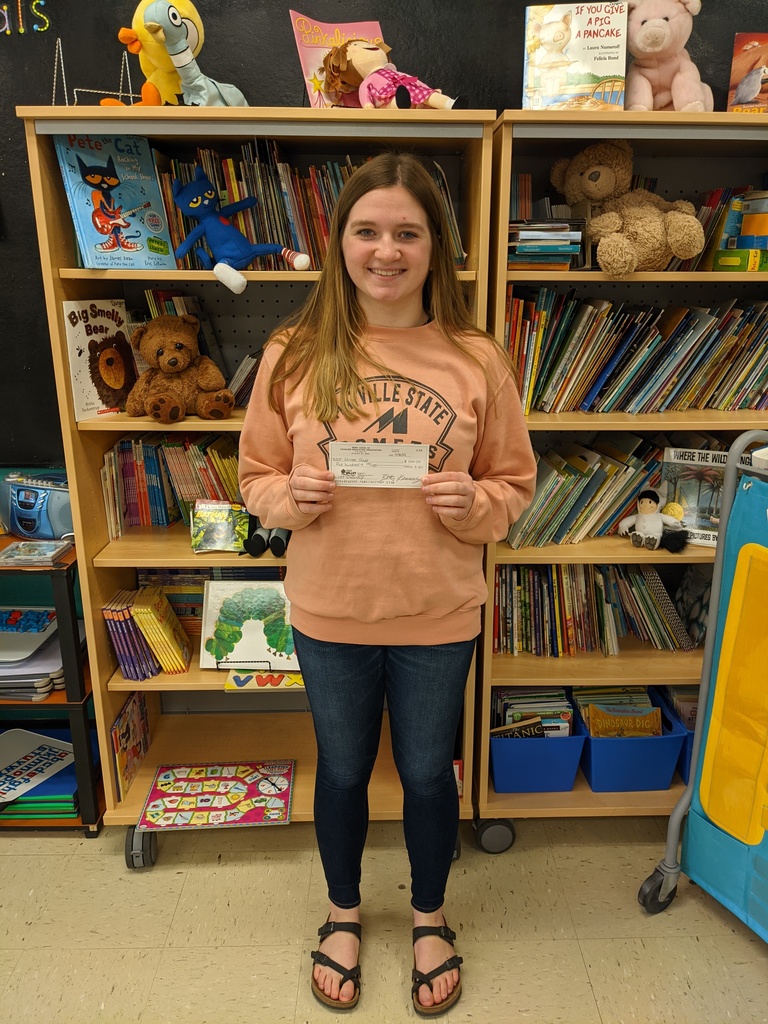 Elementary music concert is a hit!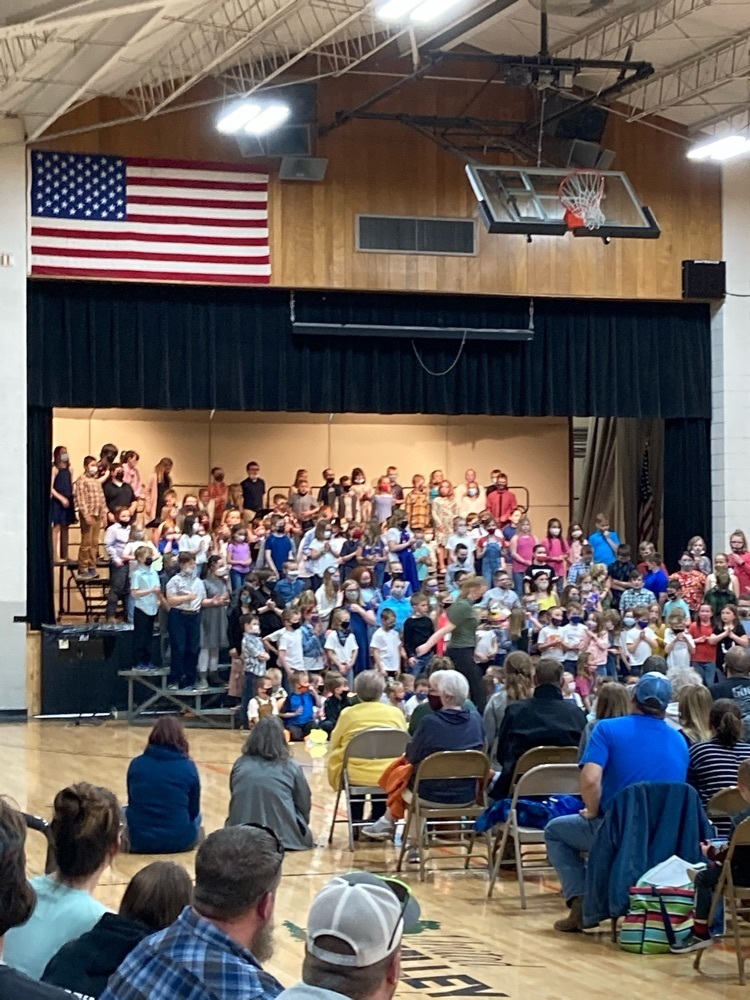 The Elementary Spring Music Concert will be live streamed tonight. It will also be recorded for Tornado Vision and YouTube viewing at a later date.
Reminder: Track & Field Day T-shirt orders are due MONDAY! T-shirts are $6. Thank you!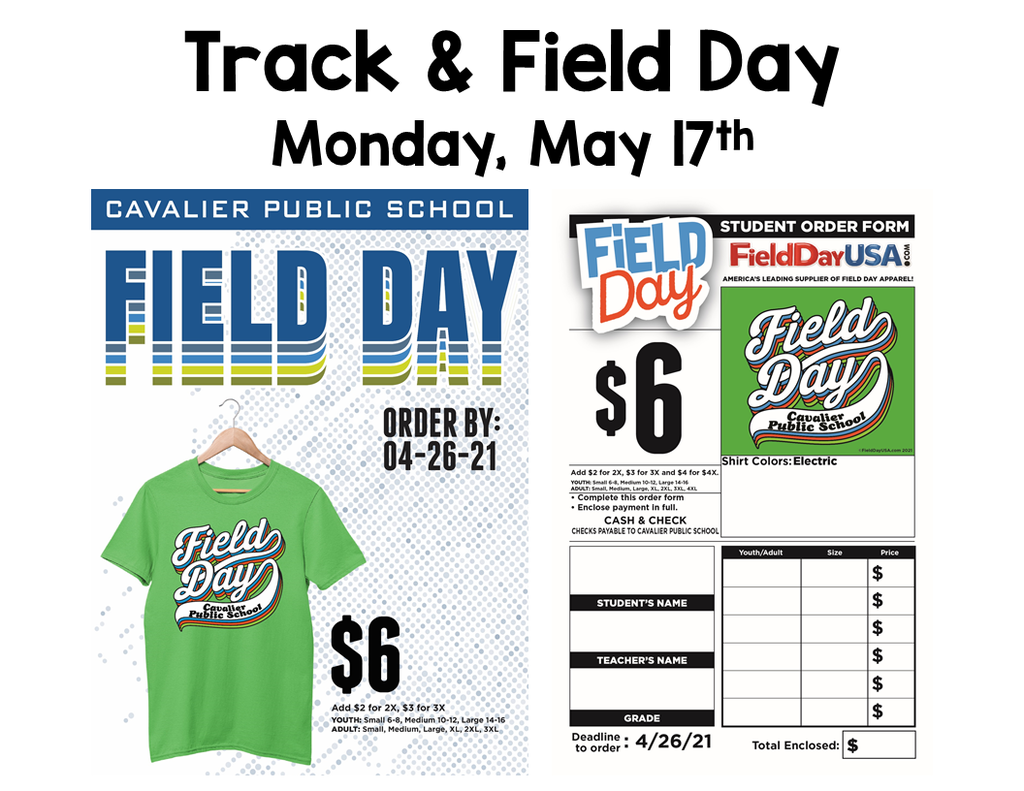 Students will be bringing home the Missoula Children's Theatre information tomorrow. Please note that students MUST BE PRE-REGISTERED in order to audition this year. See attached information.
Today is the Day!!! Prom 2021 is here! Couples need to be at the gym by 5:30 p.m. for pictures with Captivate Portraits. Doors will open for general admission at 7:00 p.m. The Main Door of the school (Door 1) will be the only door open for admission. Tickets are required so please present those at the door. Masks are required at all times during attendance. Grand March starts at 8:00 pm. sharp. Immediately following Grand March we are allowing 15 minutes for pictures on the gym floor. Please exercise caution while on the gym floor. After the 15 minutes, we will ask everyone to promptly leave the school so the dance can commence. *Once dance attendees are at the school, they are not allowed to leave until 11:45 to go change for the After Prom Party.
Track & Field Day order forms are coming home TODAY! Please send back as soon as possible if you want one. Thanks!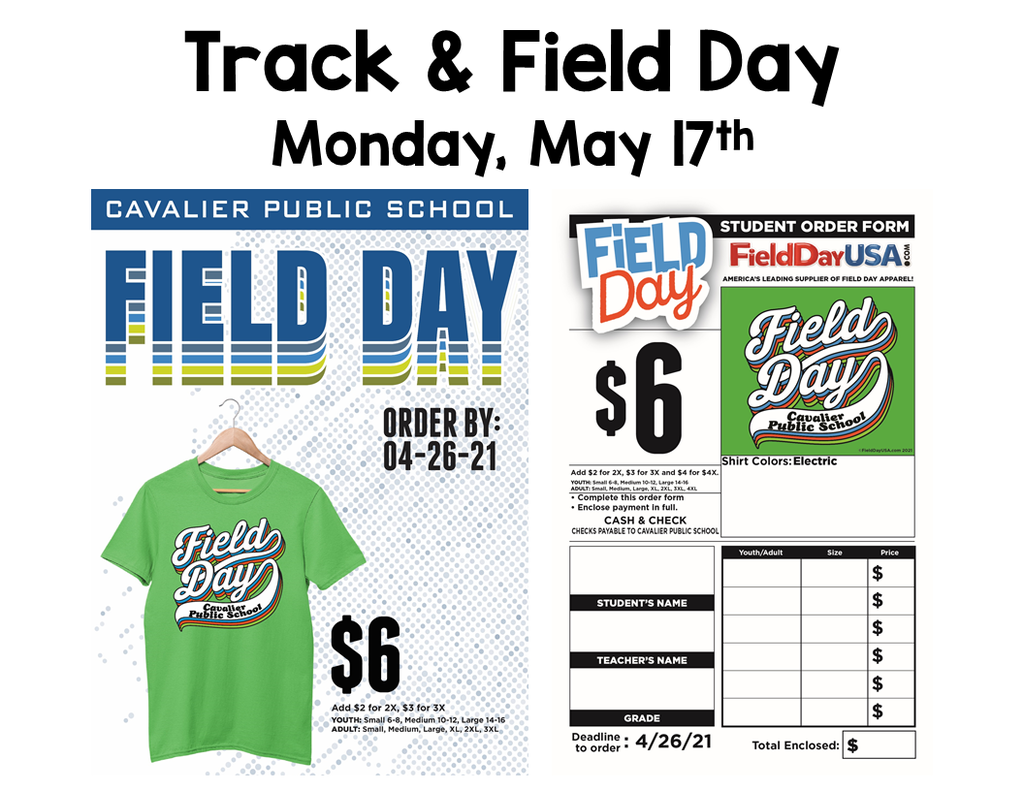 Who's ready for PROM!!! Friday April 16th:Jr/Sr Banquet 7 pm at the Cedar Inn Saturday April 17th PROM Pictures: 5:30 Doors open: 7:00 Grand March: 8:00 Due to Covid, Attendance is limited. Each Grand March participant will receive 4 tickets (so 8 per couple). Masks are required.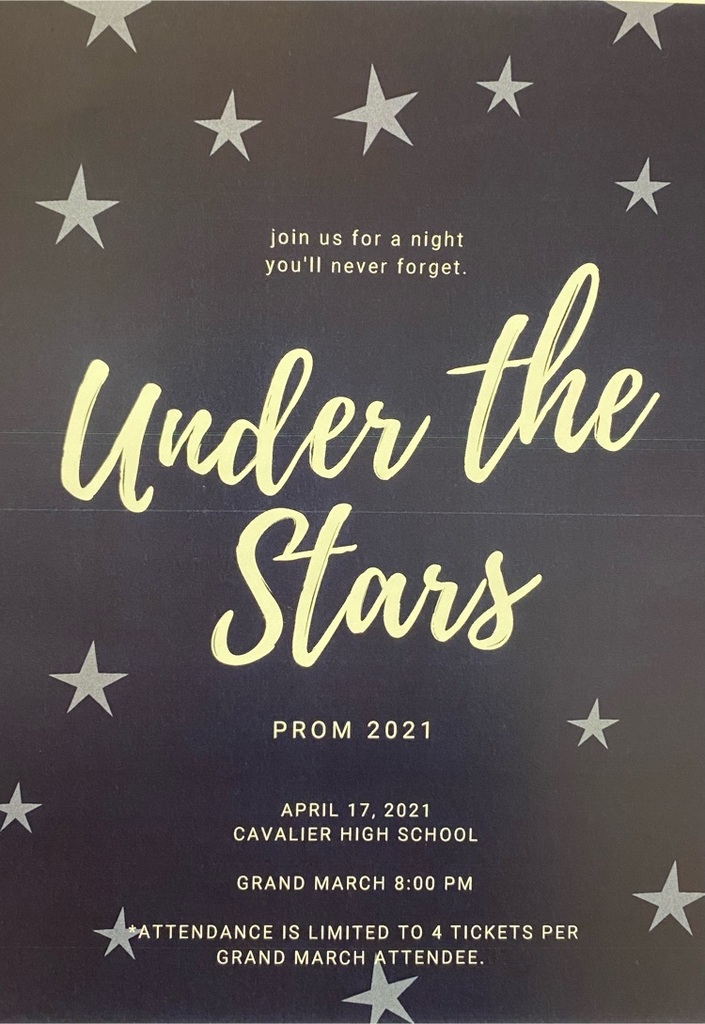 Congratulations to the students that won the "Bikes for Books" drawing sponsored by the Tongue River Masonic Lodge. Each of these students will receive a gift card and be able to pick out to the bicycle of their choice. Thank you to the Masons for their support.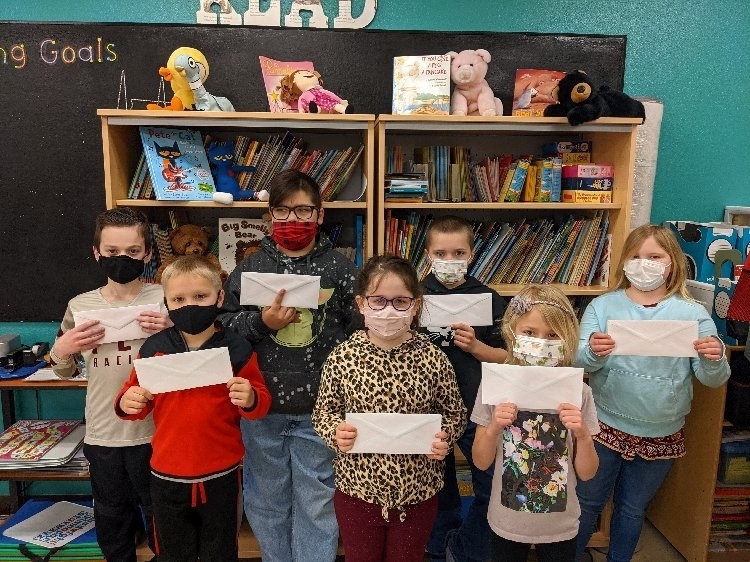 Cheer tryouts for the 2021-2022 football and boys basketball seasons will be held Sunday, April 11 and Monday, April 12. Students entering grades 9-12 next year can participate. Sign up here:
https://forms.gle/hEocoLwNzQj2Vbro7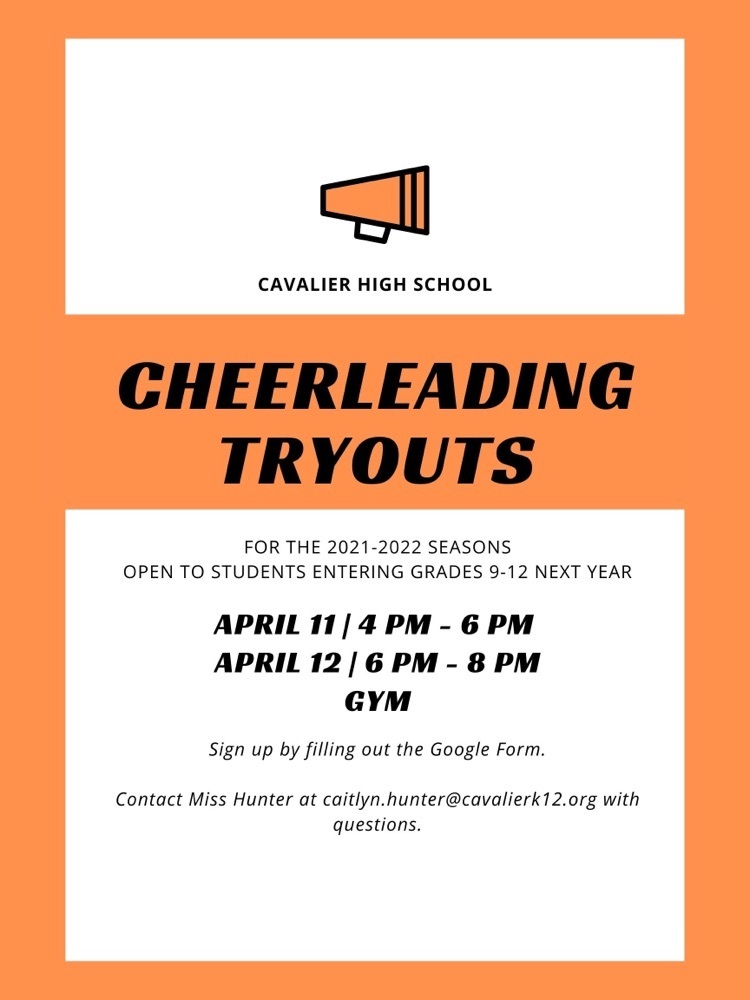 Prom donation letter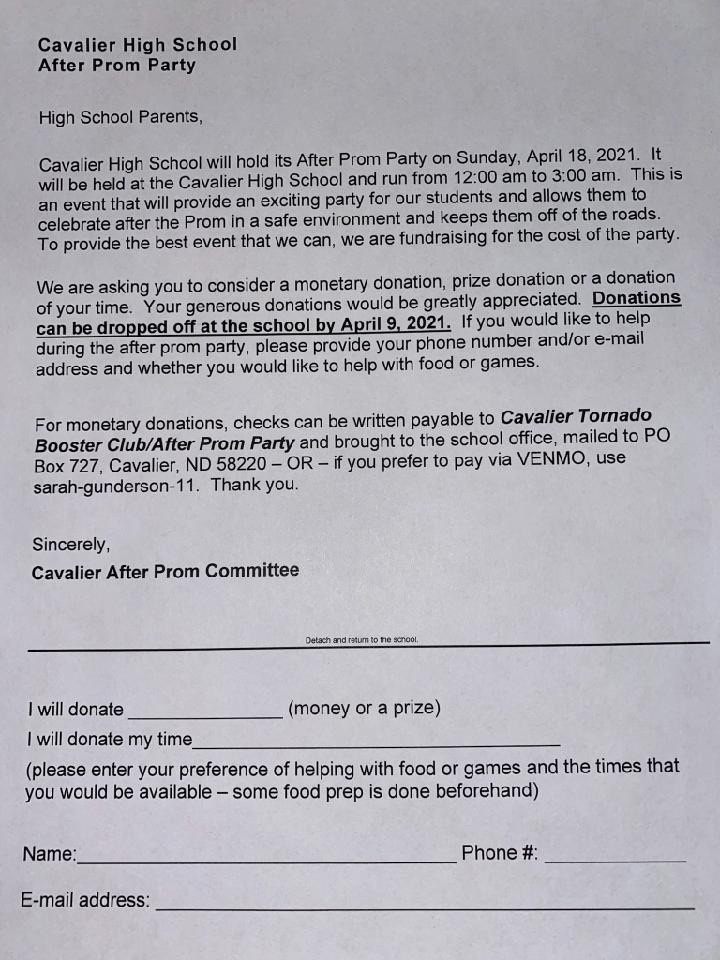 Reminder: Ice cream sundae donations can be dropped off in the office until 4 today. Your donations are greatly appreciated!

COVID update: We currently have 4 positive COVID cases and 11 close contacts associated with Cavalier School. These individuals are on quarantine and isolation. We have also required the remainder of our 1st grade students to switch to distance learning from home as a precautionary measure to help mitigate any further spread. We are still requiring masks in our building as are most area schools. We appreciate the support of our patrons to continue to keep everyone as healthy as possible and continue to keep in-person learning through the remainder of the school year. Please give us a call at the school if you have questions.

Reading Month Dress Up for Genres Week Monday - Historical Fiction (wear yellow) 💛 Tuesday - Fantasy (wear green) 💚 Wednesday - Action/Adventure (wear orange) 🧡 Thursday - Mystery (wear purple)💜 Friday - Realistic Fiction (wear gray)⚙️

Today is dress up in a jersey or Tornado gear!
2020-2021 Yearbooks are on sale now. One book for all PreK-12th. Order online or order forms are available in the office and will be sent home with elementary students. All seniors will receive a yearbook. *Orders will arrive in the fall. Link to order online:
http://ybstore.friesens.com/stores/760336