Good morning Cavalier School! Coronation is today at 2:00 pm in the gym. Just a reminder that attendance is limited; however, we will be taping the event for Channel 77 AND someone has volunteered to live stream the event on the Cavalier PTO page (crossing our fingers that everything works great). Doors will open at 1:45 pm. Please use DOOR 1 to enter the building. Please be mindful of the social distancing protocols. Have a great day!

Homecoming information is here! Thank you for being patient as we worked on the 2020 Homecoming week:) Our Student Council Representatives have been busy planning this exciting week:) Dress-up days (for the whole school-PK-12) Monday-Throwback Day-70's, 80's, 90's Tuesday-Fraternity/Sorority Day Wednesday- Rags to Riches Day Thursday- USA/CAMO/Redneck Day Friday- Spirit Day Tuesday Coronation- 2:00 in the gym-Grades 9-12 will attend. Each royalty member will receive 3 tickets with 60 tickets left for the public (Please use DOOR 1 to enter for Coronation). Friday Parade 2:15-2:50 -Grades 9-12 Pep Rally 2:50-3:30-Grades 9-12 90 people from the public will be able to attend (Please use Door 1 to enter for the pep rally) This year we will not be having a dance or powder puff games. We hope these return next year:)

Great work by staff today working with Restorative Practice Circles and I Am Resilient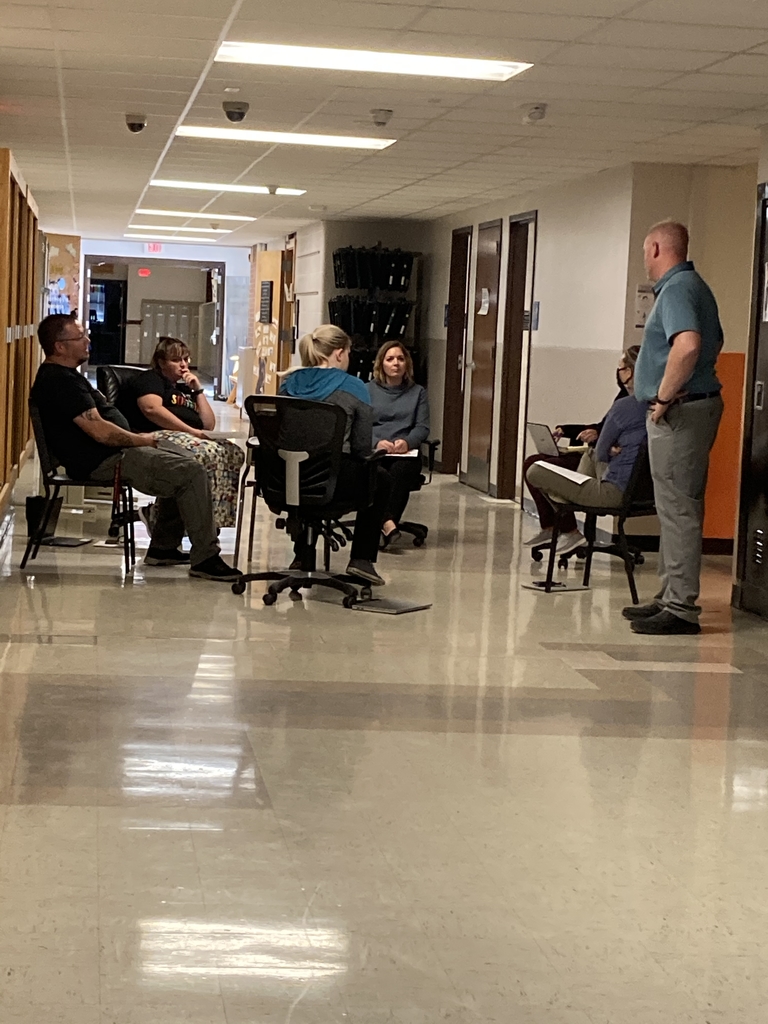 Homecoming week 2020 will be held Monday, September 14-Friday, September 18. The student council representatives are busy planning for this fun week. Thank you for having patience as we plan a week that will be fun for our students while keeping in mind the Corona guidelines. More information will be coming out tomorrow.

Change to school lunch and breakfast program: We were informed yesterday the U.S. Department of Agriculture extended to schools the Summer Food Service Program through as late as December 31, 2020. What this means for families is that breakfast and lunch provided by the school is now FREE to all students. A key part of the Summer Food Service Program is that quantity requirements are somewhat smaller than normally provided. Any seconds (extra quantities) will be charged to the student's lunch account on an ala carte basis as in the past. Many families have deposited funds in their student's lunch accounts already and we request that these funds stay in the account to cover seconds (extra quantities) or when the program discontinues on December 31, 2020. Please contact the school if you have any questions.

Yearbooks are here and distributed. They are in the office or with your child's teacher if it didn't make it home today. There are a few left if you would still like to buy one. They are $35 and can be bought in the office. It's a combined yearbook of grades PK-12.

COVID update: We have had a staff member test positive for COVID-19 and also have some other staff members be identified as close contacts. We are following the Dept. of Health guidance for these staff members to be isolated and quarantined for the recommended periods of time. None of these staff members have spent any time with students. We will have a few substitute teachers in the building tomorrow and plan to start school with students as planned. The regular teachers will be a part of the class as much as possible while on quarantine.

We've had a few questions over the weekend about masks at school. The intent of our Restart committee's plan that was approved by the School Board is that every PK-12th grade student and staff member will have a mask with them at school. Wearing of the mask, at this time, is encouraged, but not required, unless physical distancing is not able to take place for 15 minutes.

Click on the links below to view our Elementary, Middle School, and High School Virtual open house. Can't wait to see everyone on Tuesday! Elementary:
https://5il.co/kdxr
MS/HS:
https://5il.co/kdxv

Welcome back to school announcements for the 2020-2021 school year We are looking forward to school beginning on Tuesday, September 1st. The Cavalier Public School Restart committee, administration, and school board approved our Health and Safety Plan on August 3rd. This document, which is posted on the school website, contains many specifics on the changes put in place to assist in keeping students and staff as safe as possible in dealing with COVID-19. A few reminders as students and their families prepare for the first day of school: **Door #8 will not be available for use on the first day of school. The concrete work will not be finished until Wednesday, September 2nd. We will meet Pre-K thru grade 2 students at Door #5 and then walk them around to Door 6 and Door 7 to enter the school. We apologize for the inconvenience on the first day. 1. Bus drivers will be taking temperatures of students as they board the bus each morning Masks are required to ride the school bus. 2. All other students will be temperature checked as they enter the building in the morning. 3. Students will not be allowed into the building until 7:50 am each day. Please do not drop off until then unless they plan to wait outside. 4. There will be no morning recess for the elementary. 5. Every student should have a mask with them at school each day. Masks are encouraged, but not required to be worn in the building, unless physical distancing cannot be maintained for more than 15 minutes. 6. We ask that students enter designated doors of the building each day to help alleviate congestion and lines -Pre-K thru 2nd grade—Door #8 -3rd thru 5th grade—Door #5 -6th grade—Door #1 - 7th & 8th grade—Door #14 - 9th & 10th grade—Door #3 -11th & 12th grade—Door #10 -Morning ESP--Door #15 directly into the multi -Door #1-Students allowed in the building prior to 7:50 am each day only if participating in a school-related activity (a class, a sport/activity practice, or by appt. with a teacher 7. Families need to pre-screen their child(ren) each morning to answer the following questions in deciding whether or not to send their child to school: Has your child had close contact with a confirmed case of COVID-19 in the past 14 days? Yes____ No____ Does your child have a new or worsening shortness of breath? Yes____ No____ Does your child have new or worsening cough? Yes____ No____ Does your child have a fever of 100.4 or greater? Yes____ No____ Does your child have chills? Yes____ No____ Does your child have a sore throat? Yes____ No____ Does your child have a new loss of taste or smell? Yes____ No____ Has your child vomited more than 2 times in the last 24 hours, unless determined to be caused by a non-communicable condition and is able to remain hydrated? Yes____ No____ Has your child experienced diarrhea and cannot self-contain stool? Yes____ No____ *If you answer YES to any of these questions--Do not send your child to school. Contact your healthcare provider. Contact your child's school to inform them of your child's absence. *If you answer NO to all questions, go to school. 8. Main Street on the south side of the school will be open by September 1st. I would encourage traffic to move in an east to west direction to drop off students at both the elementary (#5) and middle school (#14) doors. This will help keep a steady flow of traffic. 9. Especially with elementary students, teachers can take "1st Day of School"pictures with their teachers and they will post and/or contact via Remind. 10. More information about the 1:1 Chromebook device user fee of $25 for students in grades 9-12 and device distribution will be sent out next week.

8-24-2020 Revisions: CAVALIER ATHLETICS RESTART The Cavalier Athletics Restart Committee is comprised of representatives from the fall sports, Public Health and Boosters. Their job was to set guidelines for how sports will run for Tornadoes home games this fall. While everything is still very fluid with COVID-19, here are some of the highlights of the initial fall sports plan: Games - The schedule for Tornadoes football, volleyball and Grizzlies cross country teams will remain basically the same with a few changes. The Tornadoes volleyball team will still play all their regular season matches but will not have any regular season tournaments. Cavalier football will play their complete varsity schedule, including non-conference contests, with their first game vs Larimore on August 21. Guidelines for cross country have not been completely released yet, but there will be fewer teams at each meet and staggered start times. Practices - Practice starting dates have not changed, with football and cross country beginning August 10, and volleyball August 17. Broadcasts - With a cap on the number of fans and crowds at games, all Tornadoes home football and volleyball games will broadcast LIVE on Tornado Vision and can also be streamed live through the NFHS Network once the system is in place. Along with home games, most road games will be broadcast on KNDK-FM, or 95-7 The Rock Farm, and online through myborderland.com. Fans - Each player and coach of a Tornado team participating in an event will receive up to six tickets. A ticket is needed to enter a sporting event, and the name and phone number of the fan needs to be written on the back of the ticket. The ticket will be collected at the gate. Because of this, re-entry may not be permitted. Admission is to be paid at the gate: $7 for adults, $5 for students/adults 55 and over. Please use exact change. All passes will be accepted, but an entry ticket is required. Refunds for passes will not be given if the season is affected by COVID-19. Cavalier senior citizens 65 and older can pick up a complimentary pass at the school office. If you are using a pass, please show it at the gate. ALL FANS will need an entry ticket to enter an event. The color of the entry ticket will change, so a new ticket is needed each time. Students in grades 7-12 and staff who do not have a family member participating can pick up an entry ticket at the school office any day prior to the event. Students can only pick up a ticket for him/herself. Staff can get for self and spouse. The general public can stop by the school office on the day of the event. The office is open from 8 am – 4 pm. If there are any extra tickets, they will be at the gate of the event. With North Dakota being in the Green Phase of reopening, that means that no more than 500 people can attend a public event. Opposing teams will each be sent 100 tickets to give to their fans. Fans attending the games are required to wear a mask upon entrance into the buildings and when paying at the gate. Masks are recommended anywhere on school property. Fan groups will be asked to physically distance themselves from other groups. Fans with a cough, fever, body aches, fatigue, or any other COVID symptom or underlying health conditions are encouraged not to attend. At the school, ALL fans will enter using door #7 or door #8 and exit using door #1. At the football field, fans can enter using either entrance – make sure that your name and phone number are written on the entry ticket before you get to the gate and please use exact change if you do not have a pass. These steps will make the entry process go more smoothly. No parking allowed on the baseball field. Concessions - Concessions will be available with limited menu items. Please remember that these guidelines and regulations have been put in place to keep schools open and to keep athletes and students healthy. As tough as this is going to be for some people, the goal is to keep kids playing and performing in activities. If you have questions, please call the Cavalier High School at 265-8417.